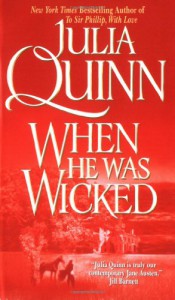 Wow, reading this book for the second time was a completely new experience. The first time I read this I was still in college and while I did feel for Francesca's issues, they weren't anything I could relate to. Now, several years later, I have experienced some of her feelings and it struck my heart so much harder.
Francesca starts out this book already married to John Stirling. She is in absolute love with him. John's cousin, Michael, is like a third wheel to them because he is more like a brother to John than a cousin. The three become fast friends.
All the while, Michael is hiding from the both of them his deep deep love that he felt for Francesca since the day he met her. Sadly for him, the day he met her was the day before her marriage to his cousin.
This book is different for Julia Quinn in that there really isn't that much comedic relief. The whole story is quite dark until the end. There just is so much sadness and torment. While it is a strong story and really touched to my personal experiences lately, I still found it a struggle to get through in comparison to Quinn's other works. While it isn't her worst; it's still nowhere near her best.
The first half is extremely slow. While I see the necessity in this, it really just dragged. I like my romances to be a little bit brighter. This one had me much too sad.